Am 17.11.2017 wurden die doch recht interessanten Zukunftspläne von den IL-2 Sturmovik-Devs bekannt gegeben. Details dazu findet ihr unter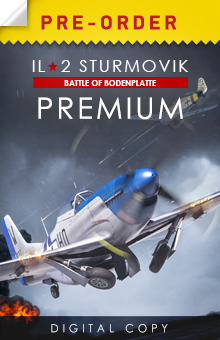 Wichtigste Information vorweg: Das Pazifik-Theater muss warten. Dies ist der Tatsache begründet, dass es sich als schwieriger herausgestellt hat als ursprünglich angemommen, verifizierte Daten und Quellen für japanische Flugzeuge zu erhalten. Außerdem dürfte die Entwicklung von Schiffen und Flugzeugträgern (auf denen dann auch Lande- und Startvorgänge realitätsnah simuliert werden können) auch nicht gerade einfach sein.
Aus heutiger Sicht werden folgende Flugzeuge mit Bodenplatte kommen:
Bf 109 G-14

Bf 109 K-4

Fw 190 A-8

Me 262

P-51D

P-47D

Spitfire Mk.IX

Tempest Mk.V

Fw 190 D-9 (Collector)

P-38L (Collector)

B-25 (AI)
Außerdem:
European Low-Countries Map (Final size TBD) (Parts of the Netherlands, Belgium and Germany)

Many Allied and Axis airfields, cities, towns and villages. Winter and Summer textures are planned.

New Allied and Axis Ground Units and Scenery.
Damit nähert man sich dem an, was es vor zehn Jahren bereits im Ur-IL-2 Sturmovik gab. Damals die Glanzzeit der Community! Wir hoffen auf ähnlich erfolgreiche Jahre in der Zukunft.
Übrigens: Battle of Bodenplatte als auch die Collector-Planes Bf-109 G6 und La-5FN können bereits im Vorverkauf bestellt werden.
Weitere Informationen zum Gesamtsystem:
Digital Warfare Engine
Previously our simulation engine was known as the Digital Nature Engine. Over the years many, many changes and improvements have occurred that has essentially re-written almost all of the engine and it now supports a wider range of vehicles. To commemorate this new reality, we have christened our updated engine the DIGITAL WARFARE ENGINE.
Larger Picture
As you can see we have ambitious plans for Sturmovik. No doubt you will have many questions and concerns about what we have announced. The bigger picture is that are now ready to try making parallel products for our WW2 fans, WW1 fans and possible new customers who enjoy tank battles. But beyond that, we hope to accomplish the following in our next development cycle.
New MP matchmaking system and lobby with chat

Improvements to aircraft fuel systems and add drop tanks

Oxygen masks for pilots at high attitude

Jet engine technology and associated physics of higher Mach numbers

Improvements to AI

Option for 4K skins by default and preview pics in the GUI for Custom skins

In-Game Model Viewer (hold over from Kuban)

Mods On/Off (hold over from Kuban)

More attractive GUI and better GUI optimization
…. and many other small, medium and large improvements to usability, functionality and performance.
Last but not least, part of our overall plan is to work with one of our long-time professional development partners to produce airplanes. This is not a guaranteed success and much work needs to be done to make this a reality, but we are giving it a shot. There is much more to our airplanes than just the model. Much training will need to be done to pull this off. If successful, we plan to make the Li-2 next. We are making NO PROMISES, but here are a couple very early WIP pics.